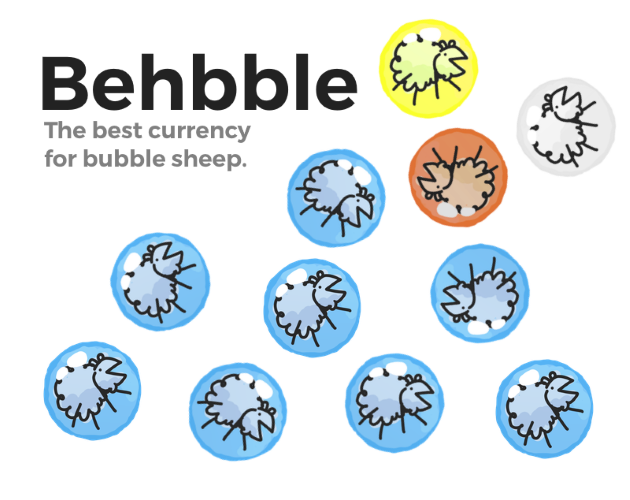 Behbbles
The best currency for bubble sheep.
Play it here for a better experience: https://parretlabs.xyz/behbble
Home:

See your behbbles, the transactions you made, and create checks for others.
Changelog:

See the newest updates to Behbble.
Transactions:

See all the transactions being made.
Wealthy:

The leaderboard for the wealthiest behbblers.
Market:

A stock market simulation. Type in a stock ticker and the amount of behbbles you want to spend then click Buy. You instantly get your shares.
World:

The biggest Behbble attraction.
Here is a guide that is also available on our Discord: https://discord.gg/behbble
Behbble World Guide:
Behbble World is a place of beh and wonder!
There are 1600 tiles to choose from!
Acquiring Land
------
Simply click on a tile to see its price, then click "Ok" to buy it using your emblems.
Gathering
------
Gathering activates your tiles to obtain resources.
You can gather once every 30 minutes.
Tiles
------
Each tile in Behbble World have their own abilities:
Here are the 2 tile types:
Resource Tiles:
Resource Tiles directly give you resources. They activate before Producer Tiles.
Producer Tiles:
Producer Tiles take your resources and turn them into premium resources. They activate after Resource Tiles.
[🌲] Forests are resource tiles that produce wood.
[⛰️] Mountains are resource tiles that produce ore.
[🏖️] Beaches are resource tiles that produce sand.
[🏦] Banks are resource tiles that directly produce behbbles.
[⚡] Power Plants are producer tiles that create batteries using 1 metal and 1 ore.
[🔥] Smelters are producer tiles that can turn 1 ore and 1 wood into metal.
[🏭] Factories are producer tiles that can turn 1 sand and 1 wood into 1 glass.
[🏢] Labs are producer tiles that can turn 1 glass, 1 metal, and 1 battery into a device.
Resource Prices:
------
Wood: 1 behbble each
Ore: 1 behbble each
Sand: 1 behbble each
Metal: 3 behbble each
Glass: 3 behbble each
Batteries: 6 behbble each
Devices: 15 behbble each
More info later...
Thanks for playing!